/
/
Free calls from PC to mobile
Free calls from PC to mobile
Please wait while we are checking whether your call can be connected.
If even any one your relative, family member or friend is living in a different country or on a different continent entirely, then keeping in touch with them would pretty much be only using Skype or social networking websites and chatting. But all these communication means can still not be as effective in talking with your friends or relative as the calls are. And even when calls are always a more personal way of communicating but making international calls can cost a fortune as the cell service providers all have a ridiculously high call rates for the international calls. Even a couple minute calls can cost you a lot, and definitely way more than what you are charged for making local calls. So how to save your pocket from getting invaded due to international calls? Well there is a solution and a pretty simple one actually and that is service of free calls from pc to mobile. And this service is really as simple as it sounds without any hidden requirements that will disappoint you, read further to know about this service.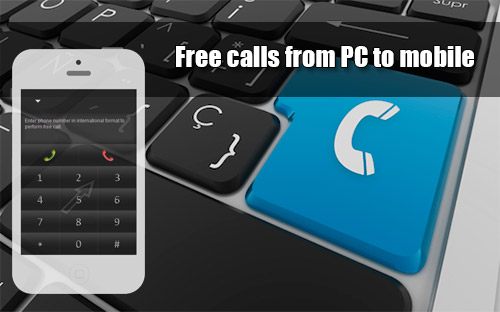 What is this free calls service?
The traditional method of calling burns a hole in your pocket every single time you make a international call. But with the free calls from pc to mobile service you can save all this money and still talk to your long distant relatives and friends. This free call service uses a new technology, VOIP (Voice over Internet Protocol) which uses internet connection to connect calls anywhere all over the globe. And since your cell service provider has no part to play in this method so these calls are absolutely free, not even a single penny to spend on these calls.
So how to use this free call service?
There are many services available on the internet that offer free VOIP calls service and using them is fairly easy. iEvaPhone, one such service that offers free calls from pc to mobile can be used for making free calls to any mobile or landline number from anywhere to anywhere on the world. All you need to do is to visit the website www.iEvaPhone.com and allow a flash widget on its homepage to load completely. Once the widget is loaded you will see a dialler pad on the screen, so select the country code from the list available on the dialler pad itself, enter the mobile or landline number you wish to make call to and hit the call button there. After a short promotional video your call to the entered number will automatically be connected and you can talk for free.
Do I need to register for anything to use this service?
No! Absolutely no kind of account or registration is required for using this service. Only the basic things are required including an active internet connection (preferably WiFi/3G), a microphone to be able to talk using your PC, and a web browser that have Adobe Flash Player 9.0 or above installed on it so that the flash widget will work properly. All these things are very basic and almost already available ti everyone so making free calls to any number can't be easier than this, right? And you can even use your smartphone for using this service if above mentioned requirements are fulfilled.
Is there any kind of limitation?
Since this service allows you to make free calls from pc to mobile anywhere and anytime all over the globe, so to avoid any kind of abuse of this service and also to avoid network congestion, there are two limitations on this free call service. You can only make four free international calls every day and every free call has some set duration that depends on the country you are calling to. As soon as your call is connected your free duration is displayed on the screen and once that duration is over you call will get disconnected automatically.
So when you have the opportunity of making free calls to nay international number from anywhere and anytime, then why waste money on calling using your cell providers. With this free call service you need not worry about the mobile bill you will get and since it is free so you can talk your heart open to your friends or relative living cross-border.