Free calls to Algeria mobile
Please wait while we are checking whether your call can be connected.
Algeria is a country with beautiful landscape and the epic history. Yes, the natural beauty of the country Algeria has everything to look out for. From the divine Mediterranean Sea in the north, the Mountains in the south and the desserts in the east, you will love to be here at the country of Algeris. Situated in the Northern part of Africa, it is by far the 10th largest country of the world and indeed has a very dense population. The country, the land of Algeria has everything to picturesque and a lot of people visit the country to travel.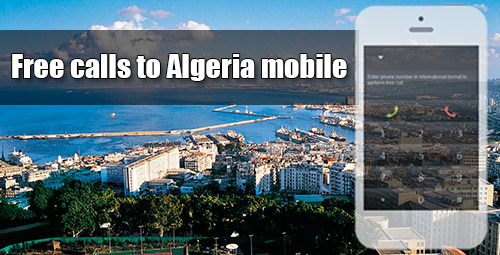 Guarded by the countries of Morocco, Libya, Mali and Niger, it is indeed a beautiful landscape to visit the Algeria. Over the years of the African Country it has a dark history for the rule of French People inside their territory. However, much after its independence in the year of 1962, the citizens of the country have developed with Arabic and French languages.
With the iEvaphone it is indeed a great option for you to dial unlimited calls all over the world and make sure that the connection is strong. Now with the installation of the app, it's just easy to call your loved persons.
Well, with so much of development, it is obvious that your close ones including family, siblings or even your friends might be staying inside the country for job purposes or even for different purposes. Having a good time of chat with them will always make you feel better and will erase the distance of missing them. However it is hard to make any international calls and will charge up a lot of money before you do such. But here is something beautiful which you would love to take upon. Well with the iEvaphone you can actually make free calls to Algeria mobile and can utilize it.
So why to wait and waste your money when you can actually dial it free to Algeria? Well, there might be some limits to call up a particular person for a multiple times in a day, but the cost is absolutely free and all that you have to do is to download the iEvaphone app to make free calls to Algeria mobile. You can even earn free credits by watching videos and then place a call with the help of the app. Download it now to avail the offers.