/
/
Free Wifi Phone Calls
Free WiFi phone calls through iEvaPhone
Please wait while we are checking whether your call can be connected.
There have been times when you thought of making free ISD and STD calls. But, later dismiss the idea as nothing but a weird dream. Now, thanks to modern technology, now you can easily make this dream turns into reality. You have the opportunity to make free phone calls using Wi Fi service. All you need is a host device to make a call and a strong internet connection. Whether you want to make call from your MAC, laptop or even from your smartphone, you can go for free wifi phone calls these days without fail. It won't be a difficult step to take and experts are there to often guide you through.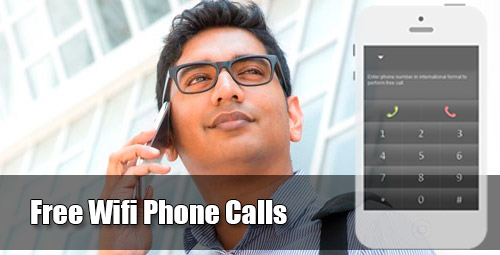 Easy navigable website:
All you have to do is just log online and click on the app page. After that, you can see a phone dial pad right at the home screen. You don't have to visit any other page as all your actions will take place on the front page. Dial the number in its international format and click on the green button to make a call. You don't have to sit right in front of the PC or laptop to make a call as you can open the website from your smartphone. So, now you can make a call while on the go just like a simple standard call, but minus spending any money.
New version is here:
This idea of making free calls is not something quite new and there have been so many apps already working on it. This particular app is the new version of the noteworthy and long working web calling application. This helps in making free wifi phone calls 24 hours a day and for 7 days a week. Cheap or paid calls are not quite an option over here as all the calls come free of cost. The team is working hard to offer you with attractive services.
Some services to get along:
Before you get your hands on the Wi-Fi phone calling app, it is mandatory for you to learn more about the options over here. There are some outstanding services available for you to try, as the newest versions are trying to incorporate as many features as possible. They are offering for you 4 time limited calls on a daily basis. Once you have made four calls, you have to wait for the next day to make another call. It gives everyone a good chance to use this free app.
Things you need:
For these free calls, you just need a microphone and web browser for making quality calls. The biggest challenge you might face while using this app is to dial the desirable number in correct international format. You don't have to worry about that as you can search for the international formats to make free wifi phone calls from online searches. Once you got the correct international format and plugged in your microphone, you are all set to go and make a phone call right now.
Best quality call ever possible:
It is true that you might be restricted to make four calls daily but the quality of this call will remain just too good to be true. The 4 time limited calls are for the newest version, and the company is trying hard to add more calls to the list. You have to trust IEvaphone for that and this company won't let you down. It is trying to improve right from its inception and has done pretty well, as of now. Give it some time and they will prove to be your best free calling app ever.