/
/
IEvaphone Voice Calling App
Free iEvaphone voice calling app
We all are living in the 21st century that is most technologically advanced than the past centuries. In this century, the means of communicating is less problematic and fast as one might have witnessed in last century. Almost every person is living in the future and we all can experience with a small little device that stays in our pocket all the time.
Smartphones and tablets are the devices that have entirely changed the way, we connect with another person. The device inherits most of the useful tools that we need almost every day in a size that is compact and portable. The cord of landline phones and other means of communication are cut due to the immense presence and use of these gadgets. Era of using the landline telephones has now gone and smartphones have become the part of every owner's life. With the benefits inherited by the phone, the main trouble is there in the form of high calling cost.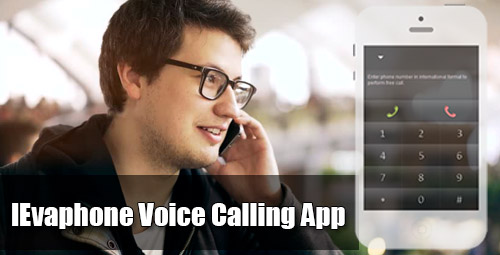 Best voice calling app ever possible
However, most of the people can avoid the cost with a simple download of iEvaphone voice calling app on your device. The app is designed in such a manner that it reduces the cost of calling and gives crystal clear voice quality during the calls. No trouble arises on using the iEvaphone voice calling app for its main purpose of calling. You can easily use the app for making voice calls to the places outside the country without any trouble.
Check and experience the functionality of the iEvaphone voice calling app without spending much on similar offerings. Talking to friends, family and colleagues is not replaceable by anything regardless of the boom in the instant messaging market. No other thing is more satisfying than calling and talking for hours to a person. The best part of the app is that it gives a lot more in a far better and cheap price regardless of the place as well as time.
You can easily use the app whenever you want whether it is day or night. It is recommended to be surrounded in a place with good internet signal as well as reception while using the app for calling purposes. If you want to experience excellent call quality in a far better way than the normal option then you must opt for the voice calling app available on the market.