/
/
Free calls to landline
Free calls to landline
Please wait while we are checking whether your call can be connected.
Planning to make free international calls from your PC or smartphone? Previously, this was just a dream, but now, it is possible! Get associated with the best online website, which helps you to make free calls without even registering your name. Have a chat with anyone, and enjoy free calls to landline around the world, by using this web browser. Once you dial up a number, you will be immediately connected with the person. Additionally, the user is free from any extra plug-ins, credit cards and trials. The browser is designed in such a manner so that even a layman can use it, when required.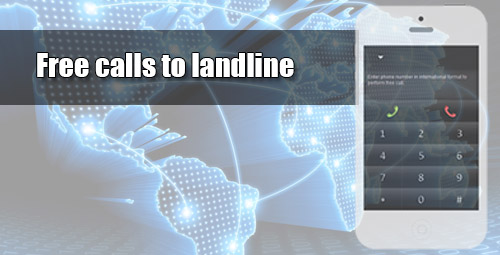 Free from sluggish design
The website is free from any sluggish design and without any marketing hype. So, now, you will be able to make an easy call without any interruption. The service is extremely simple and feels like making calls from your smartphone. For making free calls to landline, this browser is defined as the best tool available. Even if you call during the wee hours of the night, you will not be charged a single penny. Additionally, the same browser is currently undergoing some work for offering clients with better services. You can now receive nearly 4-time limited calls on a daily basis.
Some of the additional features
To avail free calling services, you just need a web browser and microphone. Enter the link of this website, and start enjoying free calls without any hassle. However, the most promising challenge is to dial a number in its correct international format. You need to tune up your microphone for clear audio. The companies are now working day and night to offer you with quality services. This platform is reliable and comes with unobtrusive service. As this web link is not going to ask for any of your bank account or credit card related information, hence; it is proven that the services come free.
No boundaries and limitations
Whether you plan to make a call at landline number or call anyone else on his mobile phone, you can use this website for fulfilling your desires. As you do not have to waste time registering with the site, therefore, you can easily make calls by just logging onto the site. Moreover, it does not matter in which country you belong, or where you want to make this call. Just ensure to possess a proper and smooth internet connection, and leave the rest on this server.
Best free calling services
Ievaphone helps in making international calls easy, by just entering the correct international format. It helps in making free international calls, so that customers can make any call from smartphone or PC. This site will not ask for registration procedure or credit card details for making free calls to landline. iEvaphone is used for making free calls 24 x 7, from practically anywhere. It offers free, reliable and quality calling services, globally. You are allowed to make 4 calls daily. The calls will be restricted by the country, where you are making the call. For using iEvaphone services, you need to dial number with international call and code.