/
/
How to make free international calls
How to make free international calls
Please wait while we are checking whether your call can be connected.
Make International Calls At Absolutely No Cost on iEvaPhone.com!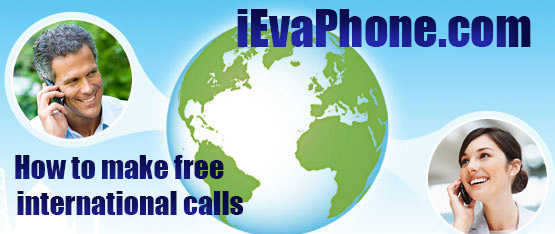 International calls are too costly to be made using our mobile balance and using Skype every single time is not possible either. So how to make international calls that too without spending so much? Well internet has the solution for this as well and a simple search for how to make free international calls will provide you with several options instantly.
Internet has paved the way for many additional services and one such service is making free international calls from your smartphone or using your PC. Such services use their apps through which you can make free calls to anyone all around the world with just a simple registration. So if you want to talk to your friend that lives in another continent far away then ask your friend to use the same app you are using and then using your internet connection make the call at absolutely no cost. You can talk to anyone anywhere and for as long as you wish using either your 3G/WiFi connection and in some cases the apps also allow to use your local minutes in making these free international calls.
There are several such services on the internet available and with a simple search and quick selection based on the user reviews you can find out the best app for making free international calls. Few notable services popular now-a-days are iEvaPhone (make free international call on our main page), Rebtel, Libon, Voxox, Tuitalk and Vopium. But apart from these also you will find hundred more offering the similar service for smartphones and PCs.
Limitation of such apps:
The one and only limitation of such services is that in order to make free international calls you and your friend both must have the same app installed on your smartphones or PCs and you both must have an active internet connection as well. Since these calls do not consume your mobile balance and rather use internet connection (WiFi or 3G), so an active internet connection is the basic requirement. So call ask your friend to get the same app you are using, and you both are good to talk to each other for as long as you desire without spending a single penny on these international calls.
There are even some service providers that make use of your local minutes to make free international calls. In this case you can make these calls even if you do not have an active internet connection, means even better option for you.